Tamar Braxton Drops "All The Way Home" Single & Preps New Relationship Book With Vince + K.Michelle Nabs #2 Album In The Country
Tamar Braxton just gave us another peek into her upcoming album Love and War. Her brand new single "All the Way Home" is inside. And news about her & Vince's new relationship book.
Plus, find out how K.Michelle's album sales went….
TV host, new mom, singer, reality star and author (more on that later) Tamar Braxton is giving us a third single off her upcoming Love and War album (out September 3rd).
"All The Way Home", a follow up to "Love and War" & "The One", is a romantically sexy mid-temp R&B track all about how Mrs. Braxton Herbert feels after a fight with the love of her life. She's thinking about him during the whole drive back home. And she's had a change of heart.
She sings:
"Done with all that cussing. Came to get something. Screaming for a different reason now. While we're breaking stuff, turning up…"
Meow. Tamar has also been saying in many of her promo interviews this week that the entire album was a reflection about the ups and downs in her marriage, which is expected when there's a new baby and new business ventures happening.
Check the new single below:
In other Tamar news, she revealed on Baltimore's Magic 95.9 radio station Tuesday morning that she and hubby Vince Herbert will be releasing a relationship advice book titled after her album, Love and War.
The book will drop on Black Friday this year, November 29th, and will be based on the couple's first hand experiences and their story with both over the top love and equally over the top war. She said Tuesday:
"It's called Love & War because … we're going through a lot in our relationship. I call [the song "Love & War"] the soundtrack to our relationship."
Her tour with John Legend also kicks off October 20th in Connecticut. And we're told she was at a dance studio in NYC last week holding tryouts for backup dancers. We're sure we'll see how all of these new ventures play out on the new season of "Tamar & Vince", premiering September 5th on WeTV. Talk about busy!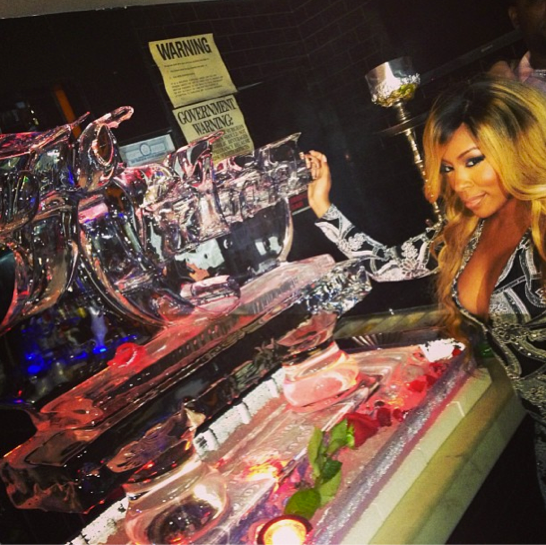 In other news, Tamar's Twitter enemy K.Michelle is also celebrating some good news. Her brand new debut studio album Rebellious Soul has just become the #2 album in the country. The "LAHH ATL" star pushed 68,000 75,000 units, according to final Soundscan numbers, and nabbed her spot on the Billboard 200 charts. She also #1 on the Urban Charts. The #1 Billboard 200 spot went to country music star Luke Bryan who sold over 530,000 units of Crash My Party.
She also is celebrating her single "V.S.O.P." sliding into the top 50 on Hot R&B/Hip-Hop Songs charts. And it's her sixth song to do so.
And if you're curious as to how she met her newest NBA baller boyfriend Lance Stephens, she said during a radio interview with Power 99′s Rise N' Grind morning show it all started when she saw Lance kicking her ex's (J.R. Smith of the Knicks) ass during the NBA playoffs.
"The other guy I was dating, they were in the playoffs together. I was watching the game and it was this chocolate dude. He was just ballin'. He was just bustin' my ex's butt."
Figures. She gave the rest of the story saying:
"I was like, 'Whoa, who is that? He is fine!' I Googled him and he was already following me on Twitter, but I didn't say nothing. I followed him back [on Twitter] but I didn't say nothing. I figured I'd run into him, it was so crazy. I put up a Vine and was following him on Vine and he said something and one day I commented on his Vine back. Then one day in front of everybody he just gave me his phone number on Vine. I said, 'What are you doing? Do you know my fans will call you?' He was like, 'I ain't care. I was trying to get to you.' So that was it. I let him make his move and he did. I didn't know if we would ever talk or nothing like that and he said he had been looking at me for a while."
Well, Congrats K!
Photos: K.Michelle's IG/Tamar Braxton

Tamar Braxton Drops "All The Way Home" Single & Preps New Relationship Book With Vince + K.Michelle Nabs #2 Album In The Country
| | | |
| --- | --- | --- |
| | Print article | This entry was posted by hhcblog on August 22, 2013 at 6:49 am, and is filed under Uncategorized. Follow any responses to this post through RSS 2.0. You can skip to the end and leave a response. Pinging is currently not allowed. |