Posts tagged
Yeezy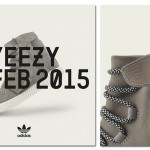 The adidas Yeezy 750 Boost is set to release this Saturday, February 14th at select New York City Foot Locker locations. See below for details on how you can reserve this shoe.
SIGN UP
• Download by visiting the Apple App Store or Google Play and install the app, registering with name, email, and zip code.
• Enable push notifications and location services on device.
RESERVE
• Receive push notification that will communicate when reservations are available in designated geographical zones.
• Reserve a pair of shoes by selecting size and confirming selection.
PICK UP
• Find out where and when to pick shoes up for purchase.
• Arrive at designated store during their designated window of time.
• Present app's reservation confirmation to a store associate and complete purchase.
Our customers are our priority and we encourage everyone to follow the procedure outlined above in an orderly and safe manner.  We thank you in advance.
** Mall Management/Landlord directives and/or security issues may result in a change to the stated store procedure **
Taking a look back at this month, the most remarkable and unexpected release in the sneaker world was the release of the Nike Air Yeezy 2 Red October. While Kanye West consistently ranted on his stops on his Yeezus Tour about how he needed a fashion deal with a large corporation, and calling out Nike CEO Mark Parker out in the process, the shoe was a limbo about whether or not it would be released at all for the past year. When Kanye West announced that he inked a deal with adidas Y-3, the questions arose once more for the much-anticipated sneaker.
Then on February 9th, 2014, Nike's (@Nike) Twitter account randomly announced that the sneakers were on sale. This caused a stir amongst sneakerheads globally because the shoe was sold out in a matter of 11 minutes. However, looking back at how high the anticipation was for the shoe and the magnifying glass on it — the decision to make it fair and drop it randomly was probably the smartest move at that point.
It's no secret that the shoe is special and amongst one of the more coveted shoes in the world. And now, they're out in the wild.
What do you think about the way the Red Octobers were released? Let us know in the comments below.