Posts tagged
Online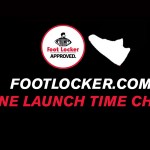 Beginning Saturday, January 3rd all launches will move to 10am EST / 9am CT / 7am PST on Footlocker.com and KidsFootlocker.com. This decision to move back the launch time is based on feedback from our consumers. We believe these extra two hours will better enable our loyal consumers on the West Coast to access some our most highly anticipated products, while also still serving consumers in other markets.
On occasion shoes may launch earlier or later, but these exceptions will be reflected on the Footlocker.com Release Calendar and communicated by @footlocker on Twitter.
**Please note In-store launch times will remain 8am EST or else otherwise noted by the store.