Posts tagged
nike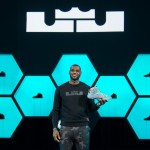 Yesterday at the Nike campus in Portland, OR the Nike Basketball design team and LeBron James unveiled his highly anticipated 12th signature shoe and the initial seven colorways that will be released in the line. The LeBron 12 is Nike's most advanced basketball shoe to-date and is designed to enhance King James' explosiveness while combining three key benefits: superior cushioning, harnessed support and natural flexiblity. After having some on-court issues last season with the 11, LeBron put any concerns to rest yesterday that he will indeed be wearing the 12 on court this season.
Via SoleCollector:
"It hurt a lot [that I was only able to wear the 11 some games] and we started to get on the LeBron 12 right away, just so we wouldn't have the same problem," LeBron said, adding that he's been working with Nike on the shoe since the end of the last NBA season. "I tested it a few times during the Playoffs, but the intensity in practice is kind of light because you play so many games. But for the last three-and-a-half weeks I've been going full throttle and the response is very good."
He added that last season was definitely a learning experience but that his relationship Nike design team has never been stronger. "That's the great thing about my partnership with Nike. If both sides don't feel like the shoes fit the athlete, then we're going to continue to go back to the lab until we figure it out." he said, " We went to the lab a lot. It hurt both of us because we loved the LeBron 11 so much, but we couldn't get it to perform the way I wanted it to perform at a high level the way Nike and myself are capable of having it performing it at."
Back to the lab they went and the results look amazing, as you can see in the video below which details the inspiration behind each of the first seven colorways.
The lead colorway to be released will be the LeBron 12 NSRL "Nike Sport Research Lab", inspired by the shoe's genesis in the lab, and will drop on October 11th here in the states. Until then enjoy the video and pictures below and follow us @footlocker on Twitter for more release updates on future colorways coming soon.