Posts tagged
Damian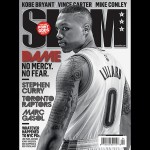 Damian Lillard of the Portland Trailblazers, now in his third NBA season, is without question emerging as one of the top point guards in the NBA and a player to tab in the early stages of super stardom. Already a three time member of Foot Locker's Team Approved – you can see his three commercials with us below – Dame is now a member of the Adidas signature shoe family. Joining Derrick Rose and John Wall as adidas athletes with a signature shoe, Dame's first three colorways of the adidas Lillard 1 will drop at Foot Locker on Friday, February 6th. At his release party in Portland, in partnership with SLAM Magazine's cover story on him, we were able to get some time with Dame to talk about his shoe and his relationship with Foot Locker. Check back with SLAM Magazine for the release of the cover story.
"Signature Athlete"
Tell us about your logo. What elements are included in it?
The Fly Guyz, that's where the wings came in. It's got the wings coming off, and then it looks like a zero. But it's my initials also. You see a D, and an L, and that goes into the wings. And then 0 is my number. So it's a bunch of things that represent me.
Was keeping the price point accessible to everyone important to you?
It is a little cheaper, but it's still quality. That was big, for kids to actually be able to buy it, but I wanted it to still be a quality shoe for them to buy. So I didn't add the Boost technology, which is what you'll see in a lot of shoes now. It's a great technology—I like it, it's in the Crazylight Boost that I wear a lot. But I felt like this is something that can make a difference for a lot of people that might come from where I come from, or might not come from what I come from, and be in an unfortunate situation. That was important to me.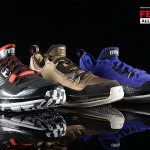 The first three colorways of the adidas Lillard 1, dropping on February 6th, will be "Away," "BHM," and "Weber State." The Lillard 1 will retail for $ 105.
You've been in two (now three – see newest at top of post) Foot Locker commercials recently. How much fun was it shooting those ads?
It's a lot of fun. The one with T-Mac was quick and simple—he was funny, he was a cool dude. But the one with all of the Hall of Famers, that was funny as hell. It was like a good time on the set. I wasn't in a rush to leave, because I could be around people that I looked up to. My brother was there, and he was like, "Man that's Barry Sanders. I used to try to juke people like Barry Sanders!" and stuff like that so those experiences with players that you looked up to, and being able to put out humor with them on national television is always fun.
"Rookie"
"No Rings"
Did you shop at Foot Locker as a kid? Is it cool to walk into a Foot Locker now and see your shoe on the wall?
Yeah, it is. This is my shoe. So, to go in there and be like, that's my shoe, is going to be crazy. I actually haven't done it yet, but I remember after my rookie year I did my very first Foot Locker shoot, and it was like, just a poster in a corner somewhere, and it was a picture of me from the back. Me and my best friend went in there, taking pictures of the poster, like, "That's me up there." And that was just some random poster in the back, so now that we're going from that to this, it's crazy.
Damian Lillard is ready to step up his game this Playoff season, are you? In our latest #Approved series commercial, the newly resigned adidas basketball star is on the phone talking to a friend about the upcoming playffs. He knows that he plays his best when he looks his best and wearing #Approved adidas gear from Foot Locker will help him do just that. The last thing he wants is to be like one of those legends who never won a ring. Watch the scene unfold and make sure you get to Foot Locker this playoff season to step up YOUR game with some fresh adidas gear! #Approved