Posts tagged
Blur"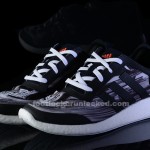 The adi Pure Boost "Monochrome City Blur" should look familiar to some. It is the greyscaled version of a Pure Boost we wrote about a couple weeks ago, appropriately named the "City Blur." Sitting atop the uber comfortable white Boost midsole, the "Monochrome City Blur" upper contains an abstract black and white graphic of traffic moving through a city. Black branding and overlays help to calm the busy nature of the graphic while bright red accenting on the outsole and tongue gives the kicks some color.
The pair is available in stores now and online at Footlocker.com for $ 120.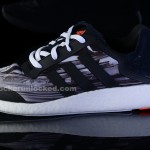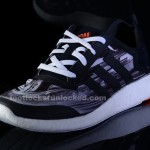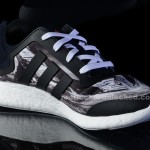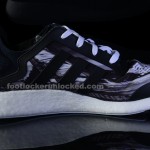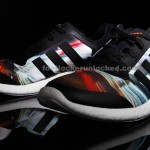 Trust us, the adidas Pure Boost is one of the most comfortable shoes you could possibly lace up on your feet. Adidas' Pure boost technology midsole provides unmatched comfort for your feet whether you're relaxing in them or going on a full run. Now, much like we've seen adidas do with the ZX Flux, we're seeing a print on the Pure Boost. The "City Blur" features an upper with an abstract design that is indicative of a city street as cars roll by. The pair features a wide array of color some bright and some dark that give the Pure Boost a much more elevated design than we've seen on previous models. Of course, the comfort of the Boost stays the same. The adidas Pure Boost retails for $ 120 and the "City Blur" model is in stores now. Check the Launch Locator to see which stores have this release.