Posts tagged
adidas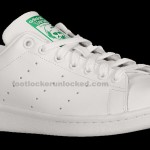 Stan Smith's legacy has held strong for more than 40 years. But it's probably not for the reason he originally envisioned when he lent his name to an adidas tennis shoe in 1971.
"A lot of people now think I'm a shoe," Smith told adidas in a video. "They didn't know I was a tennis player. The shoe has taken on a life of its own way beyond me."
The shoe began life as the adidas Robert Haillet in 1965, just two years after adidas had produced its first leather tennis shoe. Haillet was a French tennis player who had accrued 30 victories in the international Davis Cup.
After Haillet retired in 1971, adidas sought a new player to endorse the shoe. It renamed the shoe for Smith, the world's No. 1 player at the time. Smith, an International Tennis Hall of Famer who was active from the late 1960s to his retirement in 1985, signed a contract with adidas in 1973. While the shoe's branding image was transitioning from Haillet to Smith, it featured the likeness of Smith with the name of Haillet until 1978, when the shoe finally became solely Smith's.
The shoe sold about 30 million units during its long initial run, which adidas announced in May 2011 it would bring to a close in 2012. But the sabbatical was short-lived, as the 3-Stripes resurrected the shoe in May 2014.
A version of adidas' first leather tennis shoe, the Stan Smith was about the only model to not feature obvious adidas insignia. Horst Dassler, the son of company founder Adolf "Adi" Dassler, designed the shoe and took adidas' branding off it all together. Taking the place of the familiar 3-Stripes logo were three lines of perforations between the eyelets and the midsole on the inside and outside of the upper.
The shoe debuted in 1965, and in 1967 gained green foam padding around the ankle collar to add protection to the Achilles tendon. It also featured a pimpled rubber outsole for the multi-directional traction that tennis players require.
You can pick up a pair of your own adidas Originals Stan Smiths in stores and online at Footlocker.com for $ 75 in 12 different colorways.