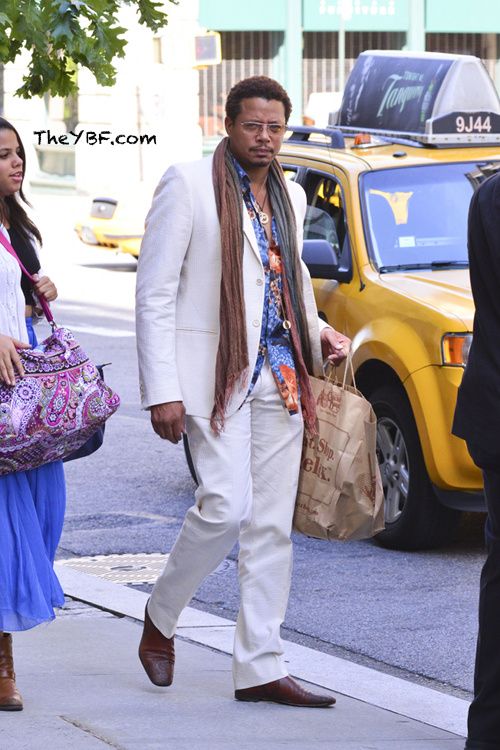 Terrence Howard is back in hot water with his ex-wife. Apparently, they thought it was a good idea to reunite to take a trip together. And now….she's accusing him of beating her…again.
Deets inside, plus the latest in 50 Cent's domestic violence case…
Best man Holiday actor Terrence Howard & Michelle Ghent divorced this past May after some serious domestic violence issues. But they thought it would be great to reunite for a trip to Costa Rica recently.
TMZ reports Terrence took Michelle and several family members on the Costa Rican vacay and all hell broke loose.
Michelle filed a restraining order saying Terrence beat her badly during an argument. Terrence says Michelle maced him and his oldest daughter first, so he fought back. "Sources" said Terrence was simply trying to cover up his brutality.
If you'll recall, Michelle accused Terrence of punching her in the face just 7 days into their marriage. Sigh.
Meanwhile, 50 Cent is also still in his domestic violence drama. Since he was accused of kicking his ex, booty model Daphne (Joy) Narvaez, and destroying her Toluca Lake property, he had to go to court today to brandish all his weapons. He also has to stay 100 feet away from her while the case is active.
Daphne's reps also will not confirm if she and 50 have a child together like it was previously reported.
So after 50 showed up in a courtroom in Van Nuys, California this morning, he was told he had 24 hours to turn over all his weapons.
If convicted, the rapper faces up to five years in jail and ,000 in fines. This guy,,,,

The Randomness:
1. Alex Rodriguez has officially been suspended from the MLB after being accused of using drug enhancements. STORY
2. Kevin Hart cut a deal in his DUI case. STORY
Photos: INF, LA Superior Court