Will Smith's Movable Mansion Angers SoHo Residents In NYC + Will He And Jada Be Oprah's Last Guests?
As Will Smith films MIB III (Men In Black 3) he has residents of NYC's SoHo neighborhood upset about his double-decker movie trailer taking up space and resources. See the pics inside and also, find out if Will and Jada will appear on Oprah before she leaves the show…
Can being fabulous sometimes go too far? Residents in SoHo seem to think so as the world's biggest movie star has moved onto their streets in a super-large deluxe double decker trailer while he films his latest movie.
Will's trailer is nicknamed "The Heat," and
"…includes a lounge, a movie room with a 100-inch screen, marble floors throughout, offices for his assistants and writing staff, a large bedroom and all-granite bathroom. It measures about 53 feet long, has 22 wheels and weighs in at around 30 tons."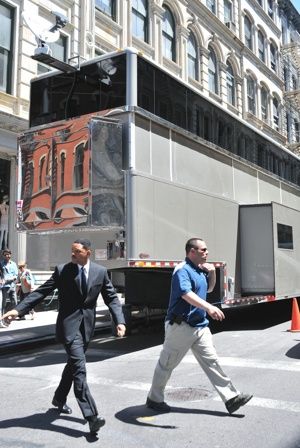 The trailer, which is 1,150 square feet, is the size of an average two-bedroom, two-bathroom apartments in NYC and costs ,000 a week.
"Its ridiculous! I've lived here 26 years, and I've never seen anything this size," 62-year-old Myrna Reisman told the NY Post. She lives next to where the trailer was parked yesterday at Broome and Greene streets.
"This thing is like a duplex. How would Will Smith feel if I parked that thing out in front of his house? People forget this is a residential neighborhood, not a film lot — that thing is taking up half our gasoline reserve."
Neighborhood residents say that the trailer unsightly, and it creates bad smelling fumes while eating at the bottom line of local businesses.
When asked about the trailer, a rep for Sony Pictures Entertainment, said,
"We know we are guests in the neighborhoods where we film, and are always respectful of the area residents and businesses."
SMH….is Will just being fabulous or a bit selfish?
And in other Will and Jada news….
The Daily reports that Will Smith and Jada Pinkett Smith may be the big guests on Oprah's grand finale show. No word from HARPO yet but I can't wait to watch.
No comments yet.
No trackbacks yet.
about 2 days ago - No comments
When running up on someone to commit a robbery it's important to size up the competition. Michael Maxwell mistakenly assumed that he would be able to rob a residence and get away scott free–he was wrong. Terribly wrong. Maxwell, 19, and his 17-year-old companion were both arrested early Wednesday (May 15) for allegedly breaking into…