Footwear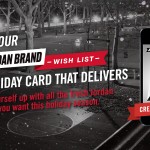 Are you tired of waiting to unwrap the perfect pair of Jordans during the Holidays only for your family to get the wrong kicks? Maybe they got the right pair of sneakers but, you'd never even consider wearing the rest of the outfit they bought to match the kicks. Those days are over.
This year for the holidays, before you put in your requests for gifts, make sure you fill out the Jordan Wish List from Foot Locker. Here you'll find the perfect way to show your love and appreciation for your family and friends, while ensuring they know exactly what you want. In the Jordan Wish List, you'll be able to customize a card that you can send to loved ones where you'll select up to seven Jordan items and Foot Locker will create a premium holiday card with your selections and a great holiday message to your desired recipient. Jordan products available to be selected for your Wish List range from new releases like Jordan XX9, to hats, to fleece and much more! After you've finished designing your card, selecting your items, and choosing a recipient, you'll have the option to send your card via email or real mail or you can post your card to Facebook or Twitter. Best of all, once the card is sent, your family or friends will easily be able to get you exactly what you want with embedded links including your sizes on Footlocker.com.
We like to think it's better than any card you find if you went shopping for one and we hope you do too. Happy Holidays!
CUSTOMIZE YOUR CARD NOW HERE