hhcblog
This user hasn't shared any biographical information
Posts by hhcblog
Snoop and his family shoot a video for the Reincarnated track "The Good Good", as well as an Overstock.com commercial, which you can watch below.
Previously: B-Real on GGN w/ Snoop | Larry King on GGN w/ Snoop
Find out why they're closed, for how long and more.

More >
By Rob Markman
You never know what Kanye West will do next. Yes, the wildly creative 'Ye is set to perform "Black Skinhead" at the 2013 Video Music Awards on August 25 in Brooklyn, but when you factor in his boundless creativity and attention to detail, there is no telling what tricks he has up his G.O.O.D. Music sleeve for the big show.
It was back in May when Yeezy used his "Saturday Night Live" appearance to debut the song, just a day after he debuted Yeezus's first release "New Slaves" by projecting the song's music video on the sides of buildings in a number of cities throughout the world.
Marked by its punk-inspired drum set,"Black Skinhead" features progressive messaging where Kanye addresses race and his anti-celebrity stance. "If I don't get ran down by Catholics, here comes some conservative Baptists/ Claiming I'm overreacting, like them black kids in Chi-Raq bitch," he raps with ferocity and urgency.
For his "SNL" performance West donned a black leather jacket and red Air Yeezy's as growling dogs and "Not For Sale" signs flashed on the screen behind him. 'Ye nestled himself in the stage's shadows moving in and out of the lights to let out passionate screams and yelps. It was a darker Kanye West than fans were used to seeing.
"I don't have some type of romantic relationship with the public. I'm like, the anti-celebrity, and my music comes from a place of being anti," he was quoted as saying in the New York Times just days before Yeezus was released on June 18.
According to West his 2010 solo album My Beautiful Dark Twisted Fantasy was made in part, to appease the public. He assured fans that Yeezus would make no such artistic concessions and pointed to "Black Skinhead" as proof. "That was the album where I gave people what they wanted," he said of MBDTF. "I don't think that at that point, with my relationship with the public and with skeptical buyers, that I could've done 'Black Skinhead' [from Yeezus]."
The song's video was released on July 23 and proved to be as revolutionary as the track's message. The Nick Knight-directed vid features a digitally enhanced version of Yeezy and has a good deal of interactivity with its online incarnation. Fans are able to adjust the pitch and slow the video down as well as grab stills for Instagram with the click of a button.
Kanye has raised the creative bar each step of the way and on August 25 when he takes the VMA stage at the Barclays Center fans should expect something special.
The 2013 MTV Video Music Awards air live on Sunday, August 25 at 9 p.m. ET/PT, from the Barclays Center in Brooklyn.
Tags 2013 MTV Video Music Awards, Black Skinhead, Kanye West
Alex Rodriguez is truly a polarizing athlete. As one of the highest paid Major League Baseball players in league history, the scrutiny on him has touched various aspects of his career including his on field performance, vanity, womanizing, individual character and his choice use of words, or lack there of.
Even as he recovered from an injury for the major part of 2013, he was in front of the public eye more than ever. Even before his suspension today for the rest of the 2013 and all of the 2014 MLB season thanks to his alleged participation in the BioGenesis performance enhancing drugs scandal, A-Rod was easily the most reviled man in baseball since Pete Rose.
How much of the hate aimed at A-Rod is fan and the media versus his own behavior is debatable. But controversy definitely follows Rodriguez everywhere he goes. So we present to you A-Rod's 10 lowest moments on and off the field.
–
Photo: MLB
Already set to be a momentous occasion thanks to a return by Lady Gaga, a Brooklyn setting, and the debut of special edition "Moonman" trophies designed by KAWS, the 2013 edition of the MTV Video Music Awards will see Kanye West performing for a record-tying seventh time. Announced today by the network on the Brooklyn Bridge, Yeezy will look to once again steal the show as he performs the Yeezus track "Black Skinhead." West was notably absent from 2012′s VMAs after performing Watch The Throne's "Otis" alongside Jay Z in 2011 and My Beautiful Dark Twisted Fantasy's "Runaway" with Pusha-T in 2010.

More >
Chris Brown took his girlfriend Karrueche Tran out for a fun day at the fair this weekend. See their candids inside and find out how Kanye West will make history at the MTV VMAs this year.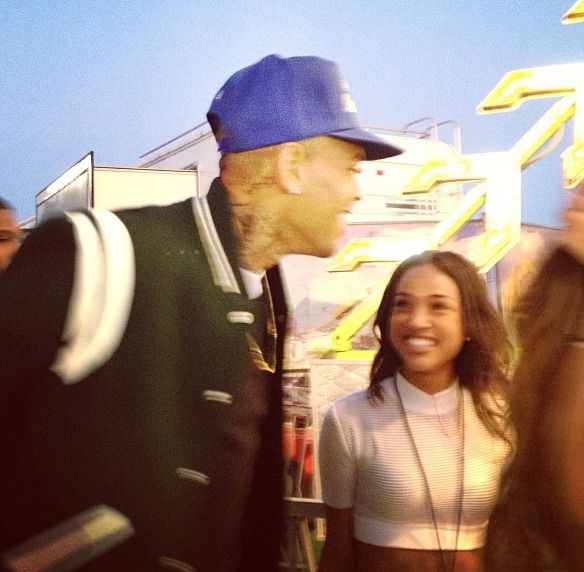 Taking a much needed break from the hustle and bustle of LA and his past and present legal woes, "Fine China" singer Chris Brown took his girlfriend Karrueche Train to the 2013 Orange County Fair recently.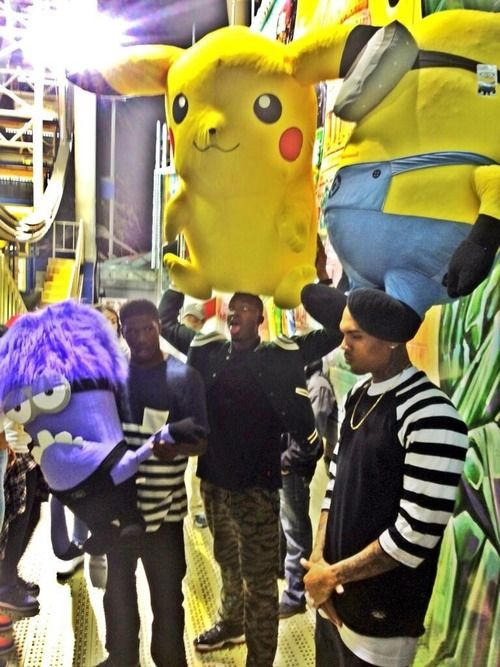 And Chris put his athletic powers to use, winning a few prizes for Karrueche. Isn't that…special.
The twosome were friendly with fans, taking time to hug folks and kiss babies.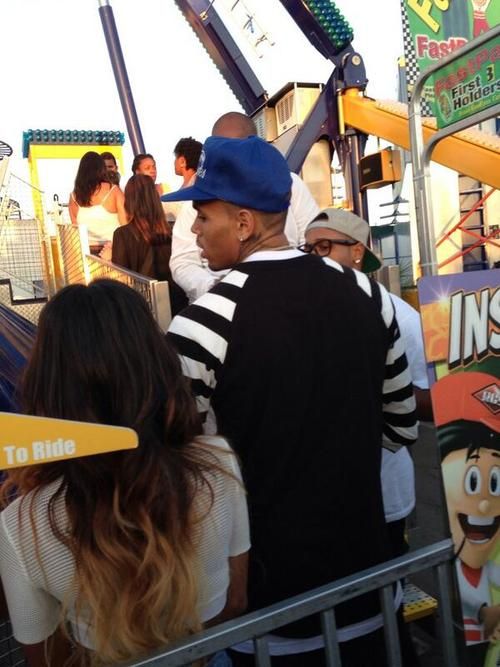 And it looks like the couple didn't pull the "celeb" card and actually waited in line to get on the rides like normal folk.
In other music news….
Kanye West will make MTV history when he walks onstage to perform "BLKKK SKKKN HEAD" (from the #1 album Yeezus) at the 2013 VMAS on August 25 at 9pmET. Taking place at Barclays Center, Kanye will enter the history books by tying Madonna as the artist with the most VMA performances (seven!). Lady Gaga has also been announced as one of the performers at this year's broadcast.
Kanye, who's won three-VMAs, made his VMA debut with Chaka Khan in 2004 doing a medley of Jesus Walks, All Falls Down and Through the Wire. But it was 2009 (a year he didn't perform) when he crashed the stage during Taylor Swift's acceptance speech that's probably his most (in)famous VMA moment.
We wonder what he'll get into this year…
Photos via Getty/Various Tumblr & IG accounts
While release details for the Nike Zoom Revis EXT "Camo" have been hidden for sometime, the official launch date is now out of the bushes. Dressed in an ale brown leather upper and paneled by the popular print, this EXT edition from the Zoom Revis line is set to hit shopping carts soon. Look for the Nike Zoom Revis EXT "Camo" to launch on August 30th for 0.
Nike Zoom Revis TXT EXT
Ale Brown/Ale Brown-Team Orange
599450-200
August 30, 2013
0
---
© ianstonebrook for , 2013. |
Permalink |
No comment |
Add to
del.icio.us

Post tags: Nike Zoom Revis

Feed enhanced by Better Feed from Ozh
Amsterdam's Filling Pieces showcased four sets of collaborations at the recent Liberty Fairs NYC trade show, the collections representing past, present and future. There was a Low Top Trainer and Desert Boot Trainer produced with Poste UK, each featuring a nubuck upper and released as part of the brands' Spring/Summer 2013 range. An Indonesian Batik print was the hallmark of the Daily Paper x Filling Pieces Low Top, which released with a matching varsity jacket in the same shade of burgundy. Filling Pieces' desert boot with Parisian label ENS dropped last month, showcasing an upper combining nubuck and a unique stingray textured toe. Finally, an upcoming collaboration with KITH previewed two pairs of full grain leather Low Tops, one in black, the other in white. Check out all the collaborations below.
Before she releases her next album, Mariah Carey is set to return to the big screen in Lee Daniels' The Butler. On Monday, the pop diva appeared at a press conference for the film in New York alongside her co-stars Oprah Winfrey, Cuba Gooding Jr., Terrence Howard, and Lenny Kravitz.
She plays Hattie Pearl, a field slave, in the historical drama, which opens in theaters on August 16. Mariah previously starred in Daniels' Oscar-nominated film Precious: Based on the Novel "Push" by Sapphire.
The singer, who injured herself on set of the "#Beautiful (Remix)" video with Young Jeezy, wore a little black dress with a fashionable sling over her arm.
"#Beautiful," her duet with Miguel, has been certified platinum in the U.S. after selling 1 million digital downloads. The song becomes Mariah's 13th platinum or multi-platinum single.
She was recently in the studio with Wale and Jermaine Dupri working on a new track. "Mariah x Wale x JD = coming soon," tweeted Wale.


Tweet
Run DMC has a relationship with adidas that dates back nearly three decades. In recent weeks we got wind that the Hip-Hop legends were teaming up with the German brand and renowned DJ and Fool's Gold founder, A-Trak, for the "Unite All Originals campaign. And today, we get word that this was just one of two things Joseph "Rev Run" Simmons and Darryl "DMC" McDaniels had up their sleeves.
The pioneer duo also have a capsule collection called the "Injection" pack that will include their iconic logo — featuring their names in either black or white text enclosed in red bars — on select clothing.
A list of cozy pieces ranging from sweat pants and hoodies to t-shirts and shorts were given a fashionable makeover. Sneakerheads will also be excited to know that a special edition pair of Superstar 80s (b.k.a. Shell Toes) will be available for purchase.
Be aware that the kicks will be limited to just 1,000 pairs worldwide; stay woke people. Take a look at the "Injection" pack on the following pages.
–
Photo: adidas, Instagram, YouTube