hhcblog
This user hasn't shared any biographical information
Posts by hhcblog
Casey Veggies drops the video for "The Team," off of his Life Changes mixtape that dropped back in January.
The song is about the LA rapper hooking up a harem of chicks, and the visual takes the party to a baseball diamond and dug out, because, why not? The tracks breezy synth and organ stabs were hooked up by The Futuristiks and make it just the type of tune for such infield debauchery.
If you're wondering about the gratuitous Puma shots, it's because young Veggies is a brand ambassador brand. Not bad for a guy (who is now being managed by Roc Nation) that passed on rolling with Odd Future in order to find his own way.
Watch the Zack Warren-directed video for "The Team" below.
–
Photo: YouTube
There are few materials as autumnal as suede, and visvim's new FBT LHAMO-FOLK *F.I.L. EXCLUSIVE just might be the perfect pair for Fall. Made from chocolate-brown cowhide uppers using the brand's signature moccasin footwrap construction, the fringed, hybrid kicks also feature an athletic-style Vibram outsole and natural cork footbed perfect for long walks in cooler weather. Look for them now at *F.I.L. retailers and online.

More >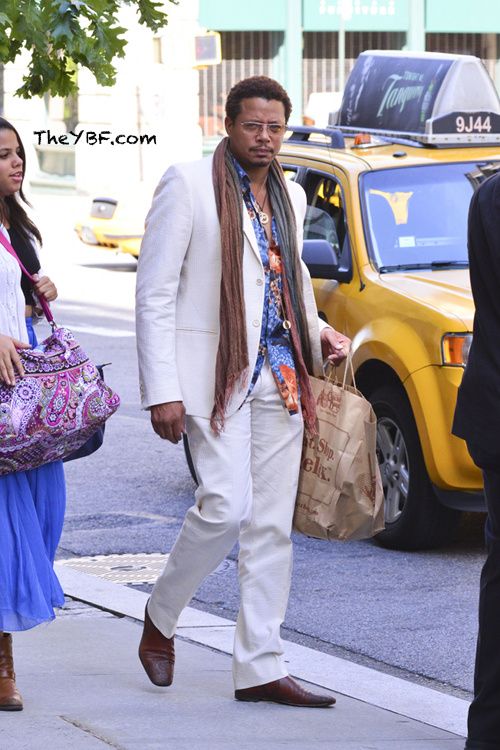 Terrence Howard is back in hot water with his ex-wife. Apparently, they thought it was a good idea to reunite to take a trip together. And now….she's accusing him of beating her…again.
Deets inside, plus the latest in 50 Cent's domestic violence case…
Best man Holiday actor Terrence Howard & Michelle Ghent divorced this past May after some serious domestic violence issues. But they thought it would be great to reunite for a trip to Costa Rica recently.
TMZ reports Terrence took Michelle and several family members on the Costa Rican vacay and all hell broke loose.
Michelle filed a restraining order saying Terrence beat her badly during an argument. Terrence says Michelle maced him and his oldest daughter first, so he fought back. "Sources" said Terrence was simply trying to cover up his brutality.
If you'll recall, Michelle accused Terrence of punching her in the face just 7 days into their marriage. Sigh.
Meanwhile, 50 Cent is also still in his domestic violence drama. Since he was accused of kicking his ex, booty model Daphne (Joy) Narvaez, and destroying her Toluca Lake property, he had to go to court today to brandish all his weapons. He also has to stay 100 feet away from her while the case is active.
Daphne's reps also will not confirm if she and 50 have a child together like it was previously reported.
So after 50 showed up in a courtroom in Van Nuys, California this morning, he was told he had 24 hours to turn over all his weapons.
If convicted, the rapper faces up to five years in jail and ,000 in fines. This guy,,,,

The Randomness:
1. Alex Rodriguez has officially been suspended from the MLB after being accused of using drug enhancements. STORY
2. Kevin Hart cut a deal in his DUI case. STORY
Photos: INF, LA Superior Court
Rapper Granted Temporary Release From Prison
6:00AM ET August 6th, 2013
Contributor : Martin James
A Rocky Williform Company
Incarcerated former No Limit Records rapper C-Murder has been behind bars since 2009, as he is serving a life sentence for 2nd degree murder. But the TRU member was released briefly over the weekend to attend the funeral of his grandmother.
Born Cory Miller, the rapper was granted leave from Angola State Penitentiary to attend the services, where his brother, No Limit founder Master P, and nephew, actor/rapper Romeo, were also in attendance.
The family took a few pictures to commemorate the moment.
"Being able to just sit & have a conversation w/my uncle @iamcmurder was a blessing," Romeo tweeted. "We gonna get you home Uncle C! Love ya #bestmoment #ripbigmamma."


nanamica is beginning the first delivery from their Fall/Winter 2013 collection, and its initial release includes this camouflage set up of Gore-Tex Camouflage Cruiser Jacket and Fatigue Pants. The refined silhouette is cut for a tighter fit, offering an alternative to real military jackets that can often be too baggy for casual wear. Although the jacket is constructed from weatherproof Gore-Tex shell, the pants are produced in cotton material, which would not stand a chance against harsh weather. Both of the items are currently available from nanamica stockists across the globe, or head over to Silver and Gold in Japan to place an order.
Singer Gets Sexy In Barbados
6:00AM ET August 6th, 2013
Contributor : Rayna Dean
A Rocky Williform Company
Rihanna has been living it up over the past few days as she enjoys Carnival in her native Barbados. The sexy singer has been posting pics of all the fun she's been having, dancing in the streets and enjoying the festivities.
She decided to raise more than just eyebrows on Instagram yesterday (August 5th) after she posted some photos of herself in her festival costume.
Not everyone could squeeze into such a skimpy outfit and make it work–but of course, this is Rih-Rih.
The sexy beauty appears to be winding down after her lengthy world tour. What better way than to get half-naked and dance in your homeland?
Glasgow's very own synth-pop trio Chvrches bring forth their new video for "The Mother We Share." — the opening track from their upcoming album The Bones of What You Believe. Directed by SJ Lee, the clip follows a somewhat depressive protagonist who seems to be set within a romantic-longing story. However, the overall dynamics change as soon as she finds out about her super powers. The Bones of What You Believe is out September 24 via Glassnote.
The original Bad Boys Diddy and Ma$e reunited (in Toronto of all places) at Drake's October's Very Own Festival last night and RealTalkNY's got video of how it all went down. Drake spoke on attending his first concert at the very venue he'd host the fourth annual OVO Fest many years ago in which both [...]
More >
Once again taking inspiration from the environment and vibrant fashion of Scandanavian culture, European brand VICO is sharing a look at their 2013 fall/winter collection. Reflective of the colorful homes on the Swedish coast and the clean, sophisticated and natural beauty of a "Weekend Escape" from city living, the collection is buit of a warm color palette and maintains VICO's exclusive all European leather composition. With the 2013 fall/winter collection set to be available online August 10, check out the video above for a better look at what's to come.

More >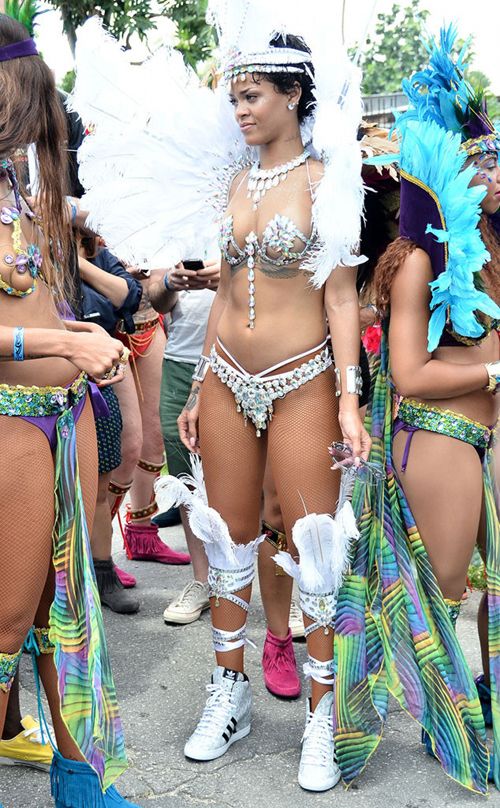 Rihanna and her bestie headed back home to Barbados to party with the locals to partake in the Crop Over festivities. See Rih Rih and Melissa in their festive costumes where they're nearly naked inside……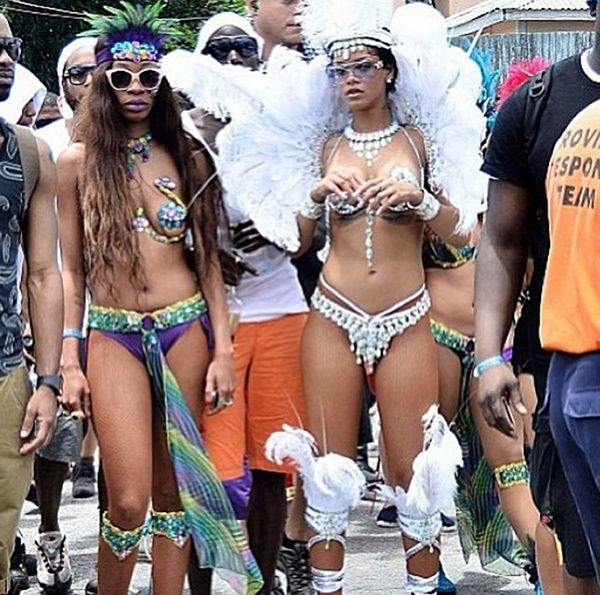 Over the weekend, the tight & toned Rihanna and Melissa Ford partied in their homeland, Barbados, and partaking in the festivities for the annual Crop Over festival and the wild finale parade that went down today.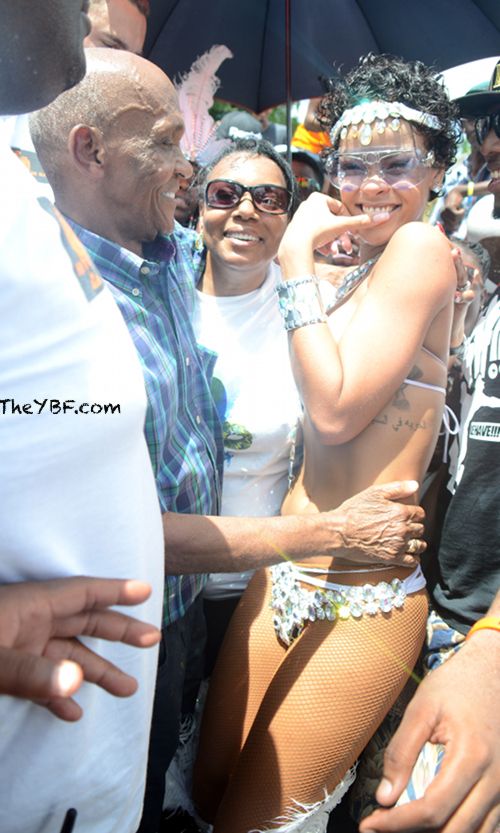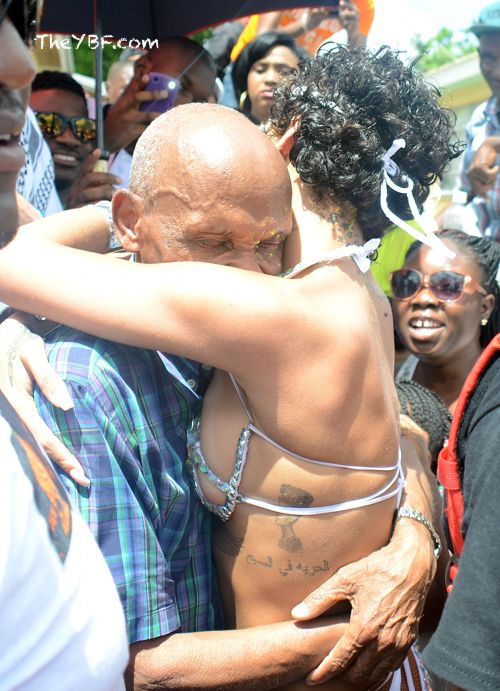 She ran into her grandfather Lionel Brathwaite and gave him a sweet hug. Then she got back to her parade "activities":
Yep.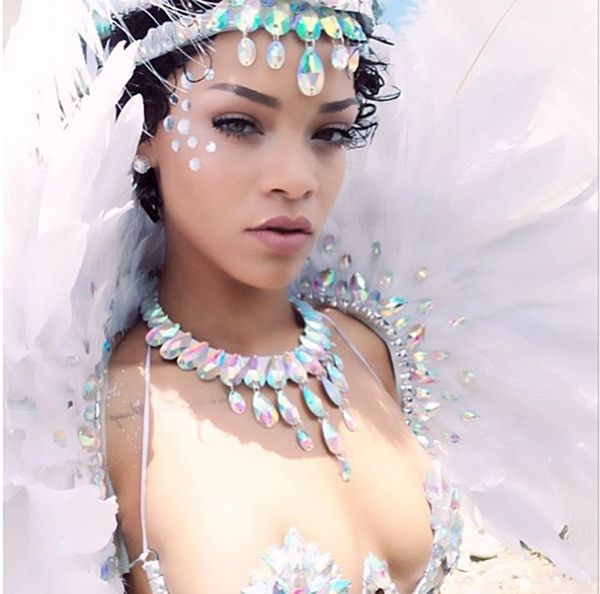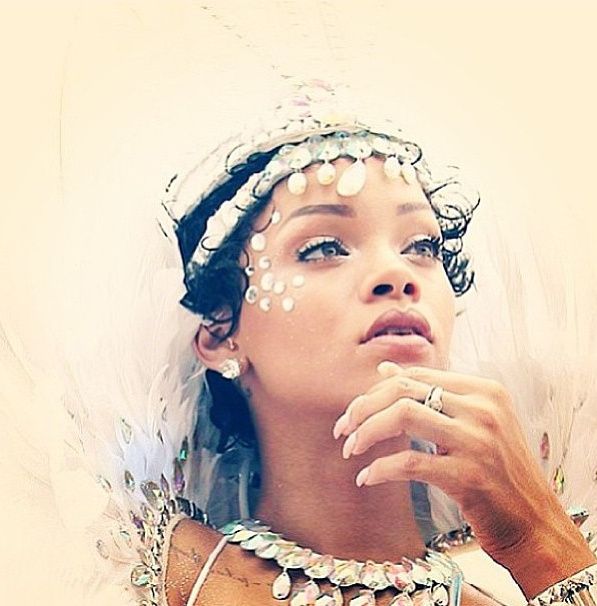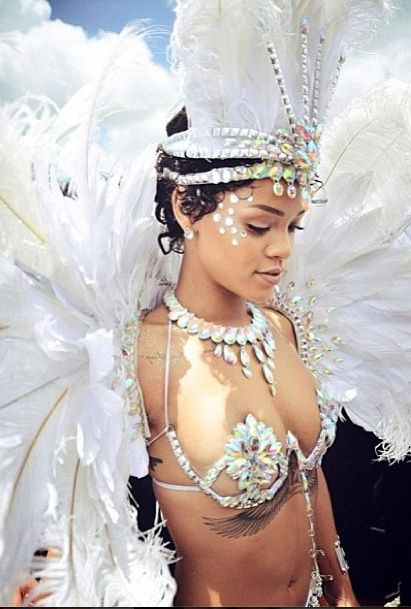 On her Instagram, Rihanna shared pics of her latest bedazzled barely-there ensemble that she wore at the historic Kadooment Day Parade today. And just like a couple years ago, she tapped into her bad gyal side and showed it all and grinded it out on the ground and on…people.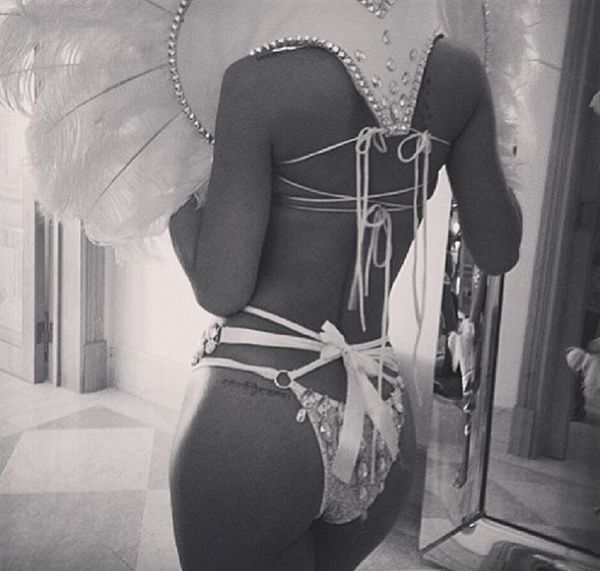 And she's clearly having a great time, tweeting things like, "Woke up in paint and a veil from partying in de street all morning!!! #Barbados #FOREDAYmorning CROP OVA almost here! #heauxm"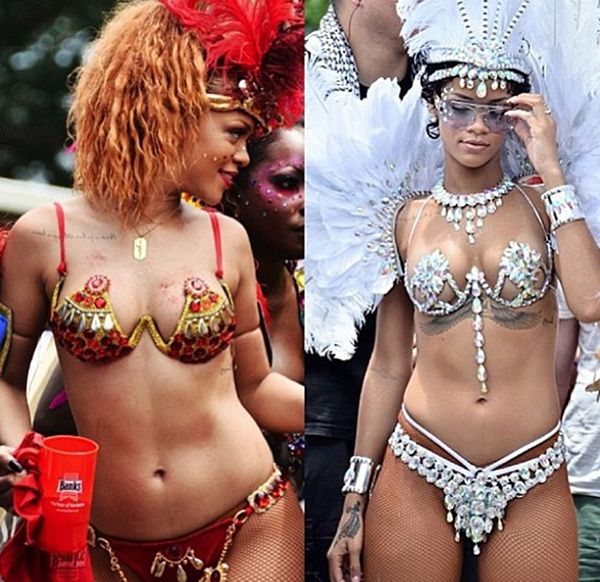 And to show that her phenomenal body has only gotten better, Rih Rih posted a "Then X Now" pic.
And Melissa isn't missing out on any of the fun either. She posted a few of her own pics, showcasing her ensemble and relaxing with a blunt…the usual way we've become accustomed to seeing her and bad girl RiRi.
She tweeted, #dropdebumba #dntttpickitupp.
Work it out then..Pon de floor….
Photos: Splash/Rihanna's IG