hhcblog
This user hasn't shared any biographical information
Posts by hhcblog
"It Was A Poor Choice of Words…"
6:00AM ET August 7th, 2013
Contributor : Monica Coleman
A Rocky Williform Company
Laili Ali candidly told an interviewer recently what she thought of Kanye West and Kim Kardashian naming their child "North West." The star athlete called the name "stupid," but it looks like she regrets being so harsh. She clarified her statement in a following interview.
"Okay, I was recently at a charity event and I was asked my opinion on some of these non-traditional and creative names and I was speaking very candidly and honestly as I always do," she explained during a radio interview with Egypt. "And you know, as a parent, knowing how cruel the world is and the bullying, and you know, kids have to grow up and get a job one day, I did say that I think some of these name choices are stupid. I do realize that it was a poor choice of words, you know, and it wasn't to single out Kim or Kanye. I actually mentioned a bunch of names, not just the name North. It was a general opinion to a question that I was asked, but it doesn't matter. I do realize and I take responsibility for it. I have no problem doing that. It was a poor choice of words that I used."
"You know I actually reached out to Kim and Kanye to apologize," she added.
Today, we proudly present the second installment of our mix series. This time around, it is none other than Ta-ku who has curated a 33-minute mix of songs for you to ride to. Appropriately titled, "Drive Slow, Homie" the piece contains soothing tunes from the likes of Harrison Blakoldman, Falcons, Teen Luc', Esta, Ta-ku himself of course and many more. Or to put it in his own words:
How did you approach this mix?
It's basically a culmination of tracks i love to play in my car. The mix starts on that top down / beach side / hair blowin in the wind / laid back trill tip. Then slowly moves into top up / nightime / grown man dancing like a grown woman / meet you at the spot / jersey jamz tip.
The top three most played songs on Ta-ku's iTunes are….?
Dimlite – Roo (Dedication)
Foreign Exchange – Come Around
Tribe Called Quest – God Lives Through
Favorite place to DJ in the world?
My bedroom.
Superman or Batman?
Batman ALL DAY.
Barack Obama or Michelle Obama?
Fred Armison.
If Ta-ku could be any Transformer, he would be?
Optimus Prime without a doubt.
Tracklist:

Harrison Blakoldman – Obsess Me
Danny – Remedee
Weep – I Know You Got Work
Penthouse Penthouse – First Class
starRo – Any Time, Any Where
LTGL – Cabin Fever
Esta – Latch
Teen Luc' – There
Ta-ku – Electr(on)ic Relaxation
DJ Hoodboi – I Get Lonely
FS Green – Deep
Falcons – Boy Is Mine
New music from upstate New York MC Dao Jones featuring a verse from YC The Cynic. This is off the Dao Era mixtape, which you can stream and download here.
Previously: YC The Cynic – Murphy's Law
"I'm Tired of Being Famous For A Mistake"
6:00AM ET August 7th, 2013
Contributor : Erica Moore
A Rocky Williform Company
Chris Brown is feeling sorry for himself again.
The R&B bad boy decided to pour his heart out again–via Twitter. The singer reportedly briefly turned himself over to the authorities (regarding violating his probation in a hit-and-run back in the spring); and he managed to quietly leave jail shortly thereafter. But he was apparently feeling a little down after the day.
"Home don't feel like home. Too many vacant rooms," he tweeted. "Don't worry mainstream America, after this X album, it'll probably be my last album."
"Being famous is amazing when it's for ur music and talent," he added. "I'm tired of being famous for a mistake I made when I was 18. I'm cool & over it!"
A fresh and subtle colorway within the realm of women's sneakers, the Nike Air Max Thea features a fusion of grey hues, accented slightly with a touch of Flash Lime at the shoe sole and heel tab. The upper is a mix of engineered mesh and Hyperfuse panels, offering subtle dimensions and tonal detailing through the pairing of Mercury Grey and Mine Grey coloring. Priced at €130 EUR (approximately 5 USD) the shoe is currently available at Overkill.

More >
A short visit to the county jail didn't dampen Chris Brown's party spirits as the "Love More" singer was spotted leaving an LA hotspot while being trailed by a mystery blonde. See the pics inside and his revelation about leaving the music insudtry….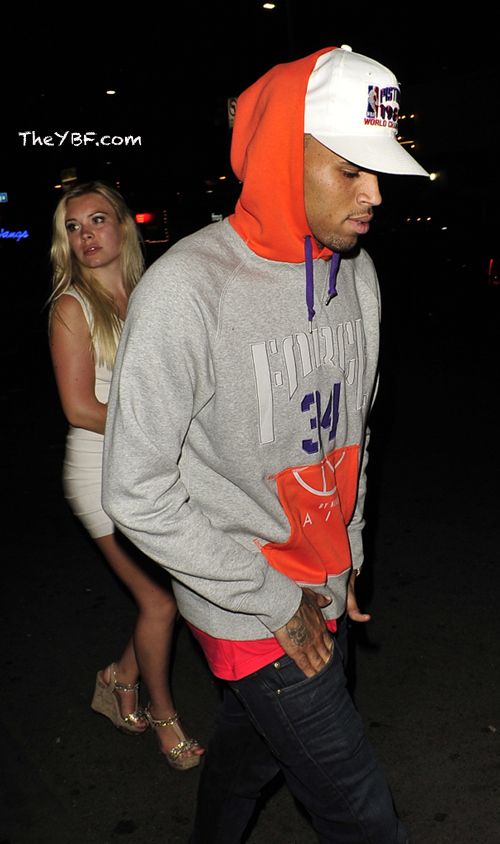 After spending roughly 45-mins in jail yesterday when he turned himself in (regarding his hit-and-run charge), Chris Brown put his legal woes behind him and partied at LA hotspot AV last night. As he walked to his Lamborghini Aventador sportscar, photographers snapped him with a mystery blonde who was also sharing the sidewalk.
We're pretty sure this "random" chick was just trying to have her picture taken when Chris walked by, seeing that dude spent a fun-filled weekend with his boo Karrueche Tran at the 2013 O. C. State Fair recently. But, you never know….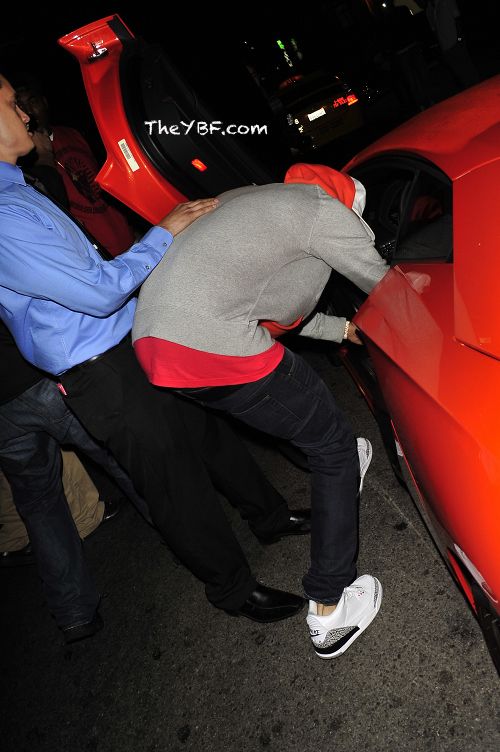 What's next? While Breezy's next court hearing for the hit-and-run is set for Aug. 15th, he still has to deal with the issue of his probation (in the Rihanna beating) being revoked! Bottom line…..don't expect him to go on tour with the X album (due August 20th) anytime soon.
He also tweeted this morning about being "over" the industry and making this X album his last:

Hmmm….
Photos via SPW/Splash News/Chris' Twitter

"It's Kind of Like High School"
6:00AM ET August 7th, 2013
Contributor : Chris G.
A Rocky Williform Company
Ja Rule spent the better part of two years behind bars after being convicted of felony weapons possession charges. The former Murder, Inc. star revealed that he befriended several other noteworthy inmates during his stint.
"I was there with [former Tyco International CEO] Dennis Kozlowski, [former New York state comptroller] Alan Hevesi, Larry Salander, the art tycoon," Ja Rule said during an interview with Complex. "They were all good guys. Me and Alan, he's a Knicks fan like me, so we watched a lot of Knicks together, never missed a game. We talked politics. The election was going on while I was locked up, Obama and Romney so we would talk a lot about that. Hevesi is a Democrat so we were on the same side [Laughs]."
"It's kind of high school. You go in, you got your A crowd, you got your B crowd. You got your nerds. You got your jocks," he added. "It's kind of the same way, and as soon as I walked into the joint, I was a part of the A crowd. Shoutout to everybody in Ray Brook, Midstate."
Back before their Boost and Springblade technologies, adidas used more traditional midsoles for their running shoes. This retro adidas ZX 700 features lightweight EVA foam cushioning, which supports a textile and suede upper with a breathable mesh lining. This classic '80s running shoe is now given a classic bliss red and white style code that could pass for an OG. An iconic royal blue brand tag on the tongue and reflective detailing add an extra element to this vintage silhouette.
Throw it back with these adidas ZX 700s by adding a pair to your collection today at shopnicekicks.com.
adidas ZX 700
Bliss/Running White-Brick
---
© Jordan Howenstine for , 2013. |
Permalink |
No comment |
Add to
del.icio.us

Post tags: adidas zx 700, zx 700

Feed enhanced by Better Feed from Ozh
To demonstrate the perplexing effect of alternate timelines in its upcoming superhero film X-Men: Days of Future Past, studio 20th Century Fox commissioned a set of posters featuring characters Magneto and Professor X. In one, a portrait of mutant lord Magneto (Sir Ian McKellen) juxtaposed with a photo of his younger self, then known as Erik Lehnsherr (Michael Fassbender). The other features protagonist Professor X (Sir Patrick Stewart) superimposed against a photo of Charles Xavier (James McAvoy), before he established X-Men. The poster series also includes two propaganda-like editions from the fictional Trask Industries, maker of the giant robotic enforcers known as the Sentinels.
Directed by Bryan Singer and featuring an all-star cast, X-Men: Days of Future Past will be in theaters worldwide on May 23rd, 2014.
Using his familiar platform, Chris Brown has taken to Twitter to announce a possible retirement from music after releasing his X album. Despite being four years removed from the domestic abuse scandal, Brown cites the incident being the main contributing factor for his decision. In the two tweets below, Breezy goes on to state the belief that his celebrity is due in large part to his prior negative actions. Do you agree with Brown's assessment of the state of his career and legacy? Feel free to drop your thoughts on the validity of these statements.
Don't worry mainstream America.After this X album, it'll probably be my last album.

— Chris Brown (@chrisbrown) August 6, 2013
Being famous is amazing when it's for ur music and talent. I'm tired of being famous for a mistake I made when i was 18. I'm cool & over it!

— Chris Brown (@chrisbrown) August 6, 2013