hhcblog
This user hasn't shared any biographical information
Posts by hhcblog

Rnb star Dev Hill is at it again! This time he has released a new track called "Hard for the Money" featuring Rocko and 2deep. Although Dev is mostly known for Rnb he brings a street edge to this new track. We're looking forward to Dev Hill's upcoming project "Love Loyalty Trust"

Let's see what these two have to say

With Fyuse you can share more than just your images you can also share your perspective. Fyuse is the first social network to utilize 3d tech to make interactive pictures. Users can now share their full experience with panoramic scrolling. Fyuse has many functions that you can check out in the video above. Let us know what you think of Fyuse in the comments. We think Fyuse is a good look.
For the last installment of the February lookbook, we've styled a few looks that focus on the utilizing color in your wardrobe without overdoing it. The key with these looks is that while incorporating a bright and popping color such as red, the color serves an even stronger purpose by pairing it with more subdued/neutral colors. For example, in our first look, the model is wearing a red top from Hudson, paired with a white Jordan 23 undershirt for an added layer of separation between the shirt and dark colored Brooklyn Cloth pants. As added details to the outfit, a Nike snapback cap and blue Nike Huaraches allow the red shirt to really pop.
With our next look, our model is sporting Brooklyn Cloth marsala sweats. Although it's a darker shade of red, wearing a sweats this color can send the right message when paired with the right pieces. The New Era Spurs beanie, Adidas hoodie and crispy white adidas high tops pair well with the sweats that serve as a statement.
The next photo shows the model rocking a Hudson plaid top, with black Nike "Rule the empire" long sleeve and Fairplay grey joggers. Another example of allowing a "louder" garment to turn heads while the rest of the outfit is more minimal and quiet with a purpose.
And last but not least, this look is the most casual of the styled outfits. While the dominant color of red is his shirt color, the pop of color is seen on the long-sleeve undershirt in addition to being seen on the brim of the baseball cap. The look is capped off with neutral black pants and clean white sneakers.
While All-Star weekend may be a break for the guys who lace up daily and hit the hardwood, Footaction did the opposite. We teamed up with College Humor to produce two very different, yet similarly hilarious videos, to add some much needed comedy to All-Star weekend. The two videos, which you can view below, are titled Rookie Sleepover and Prank News, respectively.
In Rookie Sleepover (Plus One Sophomore), four NBA young guns – Marcus Smart (Celtics), Giannis Antetokounmpo (Bucks), Bojan Bogdanovic (Nets), and Elfrid Payton (Magic) – star in a digital short about what happens when their agent gives them his swanky apartment for the night without any supervision.
Our Prank News network video takes a series that College Humor produces and puts our Footaction basketball and style spin on it. We hit the streets of Manhattan to prove that as long as you look like a news anchor and are holding a microphone, people will believe almost anything you say.
For this second installment of the February lookbook, we're focusing on expanding your style vocabulary by "building on the basics." Most of the time purely functional, utilitarian and simple pieces are great as the foundation to an outfit, but mixing/matching pieces with different materials, textures and patterns is the way to go. We've put together a few looks for you to gather some ideas for outfits for the month.
In the title slide, our model is wearing a Hudson top with a Jordan gold "23″ top underneath. Our first full look shows our model rocking an Adidas track jacket, a Locksmith top, Fair Play pants and a Rocksmith top underneath. Our next look shows our model wearing an Adidas shirt, Adidas pants and Adidas sneakers. For our last look, our model is rocking Brooklyn Cloth pants and the Jordan 1 "Laser."
While we're halfway through February, months have gone by where we've been wearing jackets, parkas and hoodies on a regular basis along with coordinating pieces to keep us warm. Keeping your outfits fresh and not repetitive is a task, so we've put together some looks for you to show how you can mix it up with various types of outerwear and how they coordinate with the other pieces you wear.
For the first look, our model is wearing a grey Hudson short-sleeve hoodie with a long-sleeve shirt layered underneath it. The hoodie is the darkest part of the outfit, while the rest of the look is lighter even down to the crisp white kicks. For more casual days, this look is great if you're looking to be fresh yet still comfortable.
The next look is anchored by a Carolina Blue Nike zip-up hoodie, which is paired with clean and classic beige pants and light-colored Nikes to cap it off. The pants and kicks serve as a staple for one's wardrobe while the hoodie brings that pop of color while keeping things casual and light.
The last look is the most sophisticated of three, which features a variety of textures and patterns for the two-tone windbreaker, grey jogger pants, highly-patterned Nike boots and grey ball cap. Although there is a lot going on with this look from a detail perspective, the look comes together by its common color: grey. Each part of the outfit returns to that theme which allows anyone to recognize there was thought and individual style put into this outfit.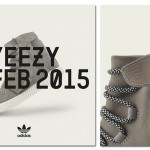 The adidas Yeezy 750 Boost is set to release this Saturday, February 14th at select New York City Foot Locker locations. See below for details on how you can reserve this shoe.
SIGN UP
• Download by visiting the Apple App Store or Google Play and install the app, registering with name, email, and zip code.
• Enable push notifications and location services on device.
RESERVE
• Receive push notification that will communicate when reservations are available in designated geographical zones.
• Reserve a pair of shoes by selecting size and confirming selection.
PICK UP
• Find out where and when to pick shoes up for purchase.
• Arrive at designated store during their designated window of time.
• Present app's reservation confirmation to a store associate and complete purchase.
Our customers are our priority and we encourage everyone to follow the procedure outlined above in an orderly and safe manner.  We thank you in advance.
** Mall Management/Landlord directives and/or security issues may result in a change to the stated store procedure **
All-Star Weekend has always been a significant moment for the Jordan Brand, whether it was a great performance by Jordan himself, the release of the newest game shoe, or simply a place where fans celebrated with the brand during one of the biggest sport moments of the year. This year, Jordan Brand and Footaction are teaming up to create the ultimate sneaker boutique: 166 Flatbush presented by Footaction.  With special edition product, customization, a variety of special guests, and the best Jordan product that is already expected of Footaction, 166 Flatbush presented by Footaction will be a can't-miss experience for Jordan fans. The space will be open to the public from February 13 – February 16 at 166 Flatbush Avenue in Brooklyn, NY.  Store hours will be 8:00 a.m. – 9:00 p.m. daily.
Follow Footaction on Twitter, Instagram, and Facebook to stay up to date on partys and product at 166 Flatbush.
Due to the heightened excitement for the February 14th release of the Air Jordan 2 Retro "Don C", 166 Flatbush presented by Footaction in Brooklyn will follow a sweepstakes procedure. Please read the below carefully.
PROCEDURE:
Sweepstakes tickets for 166 Flatbush presented by Footaction will ONLY be given out for the Air Jordan 2 Retro "Don C" on Saturday, February 7th (8:00 a.m. –8:00 p.m.) and Sunday, February 8th  (8:00 a.m. –6:00 p.m.) at Footaction @ 543 Fulton Street in Brooklyn. In order to purchase the Air Jordan 2 Retro "Don C" from 166 Flatbush presented by Footaction, you must get a ticket from Footaction @ 543 Fulton Street. Limit one ticket per customer.  You must have a valid photo ID to receive a ticket.  If your ticket number is drawn, you will be notified by phone on Wednesday, February 11th or Thursday, February 12th. If your ticket number is drawn you must be at 166 Flatbush presented by Footaction on Saturday, February 14th between store opening time and 6:00 p.m. local time to make your purchase.  You must have the ticket and show a valid photo ID that matches the name on the list in order to purchase the shoe.  Any shoe not purchased by the 6:00 p.m. local time deadline will be forfeited.
* Mall Management/Landlord directives and/or security issues may result in a change to the stated store procedure.