admin
This user hasn't shared any biographical information
Posts by admin
Kelly Rowland and The-Dream's "Lights Out" tour is already living up to its name. Kelly has been forced to cancel and reschedule many of the dates on her co-headlining tour due to her new gig on "The X Factor."
The tour was originally set to kick off tonight in Minneapolis and run through the end of June, but Kelly's schedule won't allow her to tour now that she is a judge on the U.S. edition of "The X Factor."
The itinerary has been whittled down to include Washington, D.C. on May 26, Baltimore on May 28, New York City on May 30, Philadelphia on May 31, and Mashantucket on June 2. Kelly will also make appearances at the Riverfest in Little Rock, Arkansas, on May 25 and at Caribbean Fashion Week in Kingston, Jamaica on June 8.
She informed her "RowlandStones" of the change via Instagram. "Although the tour had to be rescheduled because of 'X Factor,' I'm looking forward to bringing you guys a bigger and better show!" said the "Dirty Laundry" singer. "I can't wait to see each and every one of you guys on the road."
The-Dream supported his tourmate and revealed plans for some spot dates. "First, I want to wish my friend Kelly congratulations on her new gig at 'X Factor,'" he said. "Unfortunately, we have to change some tour dates which has been extremely hard for me and for Kelly. We are looking forward to seeing everyone at a later date. But in support of IV Play, I will find the time to come to some of the cities left out to the best of my ability, if only to be in front of the fans that support us. So request this with your local radio stations and I'll be there. I'm amped and ready!"
Kelly, whose album Talk a Good Game is due June 18, started judging auditions for Fox's singing competition this week in Charleston, South Carolina. She joins a panel that includes Simon Cowell, Demi Lovato, and Paulina Rubio.


Tweet
"He's Actually Comparing Himself To Jesus?"
6:00AM ET May 23rd, 2013
Contributor : Erica Moore
A Rocky Williform Company
Kanye West's decision to name his upcoming album Yeezus isn't sitting well with everybody. One person a little miffed by Yeezy's name choice is former "Full House" sitcom star Candace Cameron-Bure. The devout Christian told "Sway In the Morning" that she would have a problem if one of her children brought home the album with that title.
"I would have a problem with that," Bure said. "That is way too close and so is 'Hova' for Jehovah. It bugs me, it totally bugs me. Listen, there are songs that I do like but can't support 100 percent because I have issues with that. There's a million other names out there and you could have chosen one that is not one letter off from Jesus. I mean, that's just a little too close. Come on."
"That's like he's actually comparing himself to Jesus? Really? Should any of us be doing that?" Bure added. "Maybe you should change your name to 'Uda!' I think it's more, it comes from a humility point of view. That I would be humbled enough for what Jesus did for me that I don't want to in any way try to elevate myself or put myself side by side. Because I'm humbled by his gratitude."
Following up on their earlier trailer release, Activision gives us a closer look at the technical aspects of their latest Call of Duty game, Ghosts. Showing off the new next-generation engine developed specifically for the title, this video compares side-by-side the graphical improvements between Ghosts and the popular first-person-shooter series' last installment, Call of Duty: Modern Warfare 3. Infinity Ward, the developer behind Ghosts, was also responsible for the original Call of Duty as well as four other titles in the series. Expect Call of Duty: Ghosts to release for PC, PS3, PS4, Xbox One and Xbox 360 on November 5.

More >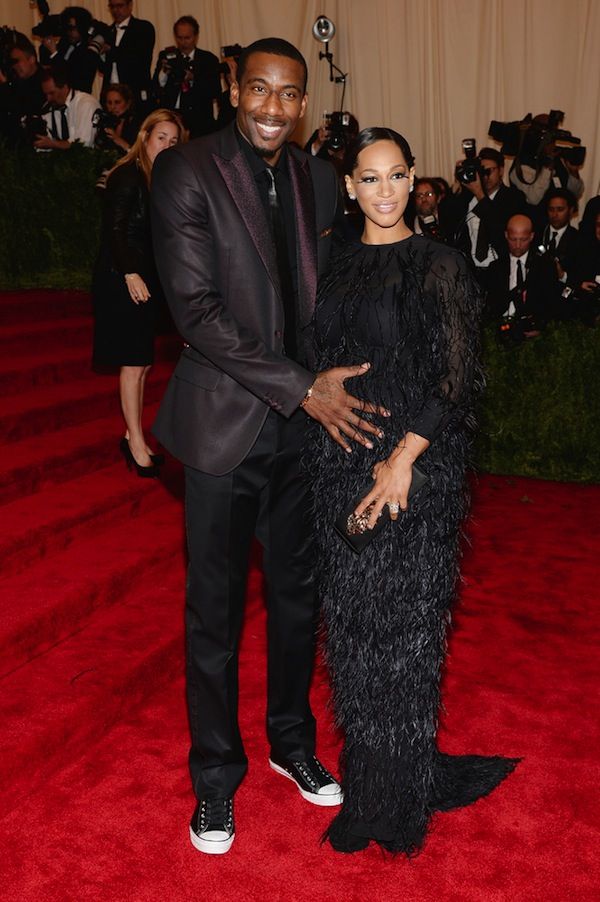 NY Knicks forward Amar'e Stoudemire and his wife Alexis gave birth to their fourth child yesterday. See what the happy couple said about their bundle of joy inside…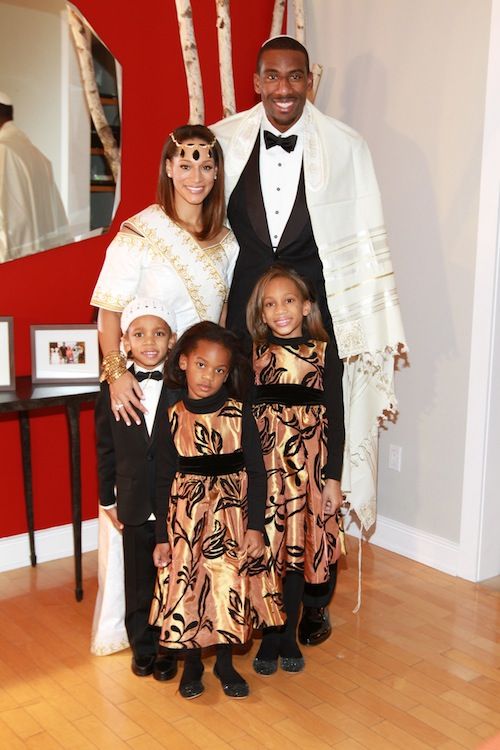 Amar'e & Alexis Stoudemire, one of New York's most fashionable couples, gave birth to their fourth child yesterday. The happy couple (shown above in their wedding photo) tweeted,
"We are proud to announce we added a healthy baby boy to the Stoudemire team this morning. Alexis & the baby are doing great. #Blessed"
The Stoudemire family has had a lot going on in the past few months. After getting in engaged in Paris in June, the couple was married in December of 2012 on the roof of their fabulous NYC apartment.
The newest "little one" will be welcomed home by siblings Ar'e, Amar'e Jr. and Assata.
"We Hire Guys Who Are Supposed To Have Harvard Degrees"
6:00AM ET May 23rd, 2013
Contributor : Chris G.
A Rocky Williform Company
Fat Joe pleaded guilty to tax evasion in December, and the hip-hop star was honest about the possible ramifications. In the wake of Lauryn Hill being sentenced to three months for failing to file federal taxes, Joe opened up about his own situation during an appearance on MTV's "RapFix Live."
"I can't really explain that 'cause I got a real court case going on, like facing jail time. But I guess after June 24. Hopefully, it goes well," said Joe. "At the end of the day, I'm paying all the money back that's owed — actually I have and I'ma just go like a man, stand up."
"You gotta understand we hire guys who are supposed to have Harvard degrees to take care of us," he added.
"All the time you see artists, the first thing they did to you when you caught money was introduce you to a bunch of fancy guys with bow ties who are gonna take care of your money and all that and then you always see an artist or a celebrity or somebody like that goin' down for it and these guys never go down for it," he also said.
Gradient uppers and seasonal tones redress the recent White/Black-Fire Red and "Grape" releases on the Air Jordan 5 "Summer Love 3" Custom Collection. The "Tropical Nights" installment relies on pink, orange, and yellow styling, while the "Sandy Beach" makeup sees blue and yellow fade over a tan midsole. Both pairs are set to be limited to ten pairs and will go on sale on June 1st at Ecentrik Artistry.
The post Air Jordan 5 "Summer Love 3″ Custom Collection appeared first on .
Los Angeles-based director, Levi Maestro, launched his becomb line almost a year and a half ago. An indication of their popularity is evident by their steady stream of products, now with the latest addition of the Blue Stingray Infinity Piece. Previously, these items were sold individually on their website, yet this is the first time two colorways are offered simultaneously. As with the Red Stingray version, this blue version features silver casing and genuine stingray band. Head over to their online shop to make a choice between the vividly colored premium accessories.
"I Thought I Was Gay For Three Months"
6:00AM ET May 23rd, 2013
Contributor : Monica Coleman
A Rocky Williform Company
K. Michelle has had a fairly rocky relationship history. The "Love & Hip Hop" star talked to Power 106′s The Breakfast Club about her history, and revealed that she dated a woman briefly.
"I have dipped out. I thought I was gay for three months," she said.
"I realized what you men go through. The b—h jumped on my car," she shared when asked why she decided dating women wasn't for her. "I had a new car and she jumped on my car, scratched it up with her shoe and it was a wrap. She wanted to be an actress, but she was always sitting on the couch. I was actually taking care of stuff and paying bills. I was like, "Oh no I'm not used to this. I'm not gay no more."
"I like how women look. I like certain things about a woman but at the end of the day, I realized that I'm not dealing with all that bulls–t y'all go through," she added. "I do the pretty women. Nothing against the women that look like men, [but] you might as well get a man. I like chocolate, big booty, pretty skin, that's what I like. I don't let men e** me out. I never have been like, 'I want this.'"
Responsible for crafting melodic rhythms that cull from a mixture of chopped & screwed, r&b and alternative hip-hop, Ryan Hemsworth's unique delivery has seen fledgling success in the ever changing facet of post-genre beat-making. Sitting alongside the likes of Shlohmo, RL Grimes XXYYXX, Hemsworth's ability to render hard-hitting club tracks into poignant listening, or find a middle-ground between chart pop and abstract productions has made his music a focal point where all delectable variants find common ground. Hemsworth's Last Word EP took the sonic airwaves last summer, followed by collaborations with indie rappers Deniro Farrar and Shady who provided suitably brooding lyrics over sets of droning beats. Elsewhere, a long-list of remixes for Grimes, MainAtrrakionz, Frank Ocean, Rhye and Mikky Ekko continue to show Hemsworth's beatnik palettes on a number of subsidiary releases, proving the last 12-months to be nothing but industrious.
With the launch of the Music Essentials we aim to uncover the obligatory on-road items, muse and necessitates our favorite artists need to pursuit their craft. With that, we thought Ryan Hemsworth would be of perfect fit to launch the series. Not only because we share equal appetites towards music from across the spectrum, but we also knew he would hold a few gems in his Essentials that'll catch us off-guard. We caught up with the Canadian producer and DJ in New York ahead of his Boiler Room set and got to understand why his Akai APC is just as important as the Japanese Manga comics he holds close.
Peedi and 1Hunnit Rico drop a quick studio visual for their cut "Fanta Leaf". Peedi's CF5: The Cocaine Edition drops this weekend.
Previously: Peedi Crakk & 1hunnit Rico – Fanta Leaf | Peedi Crakk – Respect My Hustle Freestyle